Wed, 03/29/2017 - 1:30 pm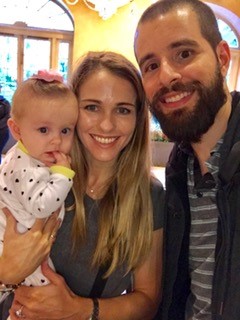 Melissa's oversupply of breastmilk created a huge surplus saved up in her freezer. Knowing that this milk could benefit fragile babies in need, she searched for a local milk bank and found The Gathering Place, the Mothers' Milk Bank of North Texas depot in Miami, Florida. She connected with MMBNT through the depot and has already donated 2,000 ounces of breastmilk that her daughter, Viviana Grace, doesn't need.
Viviana is healthy and thriving today, but she entered the world with complications. She stopped growing due to velamentous cord insertion, an issue with the placenta, and due to that and her breech presentation, she was born via emergency C-section at 37 weeks and 5 days. Melissa started breastfeeding her right away at the hospital. While Viviana had a good latch, she became cyanotic, or lacked oxygen, when she was nursed.
,
A swallow study determined that Viviana had a tracheoesophageal fistula, an abnormal connection between the windpipe and esophagus. She was emergency flown to Nicklaus Children's Hospital and at just 5 days old, she underwent surgery to remove the fistula.
"I knew I wanted to breastfeed her, so I pumped around the clock while she was in the NICU to make sure that I maintained my supply," Melissa said.
After a successful surgery and two weeks in the NICU, Viviana finally went home. Melissa immediately resumed breastfeeding and says it's done wonders for her daughter, who is now 6 months old. "I attribute her rapid recovery to the power of breastmilk and lots of love," she said.
,
Donating breastmilk is Melissa's way of helping others who start out with complications like Viviana did. To her, donating is "giving another baby the opportunity for improved health status, mental function and recovery in situations with early adversity.
"I'm a Child and Adolescent Psychiatrist, and I would have never appreciated how difficult it can be to be a parent without this experience," Melissa said. "Life is full of risk and having a child makes you so acutely aware of everything that can go wrong. It has not been an easy road, but having faith in the power of love and the evidence base for breastfeeding and breastmilk has been a beacon of light providing direction and hope that we are doing the right thing."
For more information about becoming a milk donor, click here.
Tue, 02/14/2017 - 8:57 pm
Keilah first became familiar with donor milk after giving birth to her son, Jace. After being born at 36 weeks, he briefly received milk from Mothers' Milk Bank of North Texas. Once she established a supply, Keilah calculated how much milk Jace took in a week versus how much she was producing.
"I quickly realized that storing up months and months of milk would take so much freezer space," she said. "There is no way we could keep it all."
That's when Keilah decided to become a milk donor herself.
,
In the two months since she became a donor, Keilah has donated more than 1,700 ounces. She is able to drop off her milk directly to MMBNT during her lunch break at work, but if she needs to clear some space in her freezer on the weekend, she heads to her nearest depot.
"We've loved being able to share our milk," Keilah said. "What a blessing it is to have something like this in Fort Worth!"
While Keilah helps others with her milk donations, she also has helpful insight when it comes to breastfeeding, pumping and finding a rhythm that works for both mom and baby. First and foremost, she emphasizes the importance of being flexible and patient.
,
She and Jace worked through latch issues for about 12 weeks, which involved lots of practice, trying a nipple shield and feeding him bottles of breastmilk as needed. Bottled breastmilk ended up having its own benefits – it eased the transition when Keilah started working again and Jace had to take a bottle, and it also allowed for special bonding time between Jace and his dad, as well as other family members who could feed him.
Additionally, Keilah recommends taking advice from many sources to determine the best method for you. Lactation consultants, doctors, and friends and family with breastfeeding experience all have valuable information that can help a mom along her breastfeeding journey.
"There is more than one approach to feeding your baby, and every mom, baby and family are different," Keilah said.
For more information about Mothers' Milk Bank of North Texas, click here.
Mon, 02/06/2017 - 3:04 pm
James and Victoria's twin daughters, Caroline and Elizabeth, made their debut at 30 weeks. The girls had twin to twin transfusion syndrome, which had not been detected in an ultrasound, so their premature arrival was a blessing in disguise. "They were safer in the NICU's hands than in the womb at that point," Victoria said.
Caroline and Elizabeth received donor milk from Mothers' Milk Bank of North Texas for about a week until Victoria had a sufficient supply. Her supply turned into a surplus, as her milk filled up the family's multiple freezers. Despite the space issue, she had to keep pumping in order to maintain her supply for when the twins were released from the NICU.
,
With more than enough milk to spare, Victoria contacted MMBNT about becoming a donor. After completing the donor screening process, she started taking donations to her nearest depot, Texas Health Harris Southwest. She's been able to drop off directly at MMBNT as well, giving her the chance to see milk processing in action.
Victoria enjoys being able to give back to others through the unique way of milk donation. "It is a gift I have been given and my calling is to spread the wealth," she said.
However, breastfeeding has been a team effort for the family. Victoria remembers when Caroline and Elizabeth were in the NICU, and how she and James felt helpless. They felt like the only thing they could control was milk production – Victoria pumped, while James cleaned pump parts, supplied her with food and water while she pumped, and offered emotional support through the tough times.
,
"Without his support and the support of the rest of my family, I would have never been able to succeed at breastfeeding," Victoria said.
Today, Caroline and Elizabeth are 6 months old, enjoying life at home with mom and dad, and Victoria has donated nearly 1,000 ounces of milk so far. She is happy to share her liquid gold with those who need it, just like other moms did for her daughters.
For more information about becoming a donor, click here.
Mon, 02/06/2017 - 2:27 pm
Being active in the community is important to the staff at Mothers' Milk Bank of North Texas. It helps people learn about the MMBNT mission, and moms who are over-producing breastmilk can discover the life-saving power of their extra liquid gold.
In fact, a community connection is how Allison found the milk bank. As a member of the Junior League of Fort Worth, she learned about MMBNT through the League's program that assigns members to local volunteer projects.
While Allison was not assigned to an MMBNT project, she still became familiar with milk donation and milk banking. She produced extra breastmilk after giving birth to her son Alexander and decided to donate.
"I had a surplus with my first son, William, but regretted not donating," Allison said. "So, I decided I would this time!"
,
The donation process has been a convenient one for Allison. William attends preschool near MMBNT, so she is able to stop by with her donations while she is already in the area. Keeping her freezer stash organized and following a routine improves the experience as well.
Allison attributes her strong supply to pumping right after her nursing sessions. She freezes the pumped milk flat in storage bags, then once the bags are frozen, she stands them upright and stores them in rows in the freezer. When all the milk space in her freezer is full, she takes one to two rows to donate. While it did take some time to adjust to a nursing and pumping schedule, she says it was well worth having a full freezer.
"I love knowing I'm helping babies in need," Allison said.
For more information about becoming a milk donor, click here.
Mon, 01/09/2017 - 2:55 pm
Angela knows firsthand how important donor milk can be. After a "normal and healthy" pregnancy, her water broke six weeks early and her son Oliver was born at 34 weeks. His premature arrival had him whisked away to the NICU shortly after birth.
Oliver received donor milk while in the NICU as his first source of nourishment while Angela worked to establish her own milk production. He was able to go home after 11 days, and she was able establish a supply. In fact, Angela began to produce more breastmilk than Oliver needed. The NICU nurses informed her that she could donate her excess breastmilk to Mothers' Milk Bank of North Texas.
"A donor fed my preemie when I couldn't," Angela said. "I wanted to be that person for a baby in need."
,
Angela started the process to become a donor in November, and has already dropped off one donation. As she sets aside more for her next donation, she's also perfecting her breastfeeding and pumping technique. She began with a very strict routine, feeding and pumping every three hours, but has become more baby-led as Oliver has gotten older.
"With preemies, you have to follow a 2.5 to 3 hour feeding schedule as you don't have that flexibility at first, but as your baby grows to full term, they instinctively adapt their own eating habits," she said.
For preemie parents who are breastfeeding like her, Angela encourages them to stay strong. "It does get easier and it's totally worthwhile," she said.
Today, Oliver is a happy, healthy 7 month old who is thriving after his premature start. Angela is thankful for the moms who made it possible for Oliver to receive donor milk, and is happy to do the same for others in need.
For more information about becoming a milk donor, click here.
Wed, 12/07/2016 - 7:43 pm
Milk donors are at the core of Mothers' Milk Bank of North Texas, selflessly giving their excess breastmilk to babies in need. Moms become donors for a variety of reasons; some are former NICU parents who want to help babies like their own; some have lost their babies and continue to pump breastmilk to donate in memory of their children; others are overproducers and want to do good in the community.
When a mom wants to become a donor, she starts the screening process by completing a phone interview with an MMBNT donor coordinator. This interview covers health information for both mom and baby, and determines donor eligibility. Then, she fills out a detailed medical history form. The final step in the screening process is to complete a blood draw, which MMBNT pays for. The blood draw screens for several conditions, including HIV and Hepatitis B and C.
,
Once all the screening steps are complete, a donor mom can be approved. While MMBNT is located in Fort Worth, Texas, donors come from all over. The geographic diversity of donors is similar to that of the hospitals and outpatients served, and MMBNT strives to create a convenient experience no matter where donors live.
Donor moms who live in or near Fort Worth often drop off their donations in person, directly to MMBNT. Staff love to meet donors and show them around the office, including the lab, where donors can see processing and pasteurization as it happens.
,
If MMBNT is not a convenient location, there are more than 40 collection sites, known as depots, where moms can drop off their donations. These include hospitals, WIC clinics, and other sites equipped to safely store milk donations until they can be picked up. Most depots are in Texas, but there are also locations in Arkansas, Florida and Georgia.
While most donors utilize one of these two options, there are still some who don't have a depot near them. For these moms, the donor coordinators will send them materials to safely ship their milk to MMBNT overnight.
Milk donors are the heroes of the milk bank. At MMBNT, we are so thankful for their dedication to the mission of helping critically ill infants. If you are interested in becoming a donor, click here.
Mon, 11/28/2016 - 7:14 pm
For Kristin, the journey of motherhood has included both joy and sadness along the way. Her first child, Tommy, was born just before her own 18th birthday, and from that moment she knew she was always meant to be a mom. With Kristin's husband Curtis in the Navy, the family moved along the East coast as they grew. They welcomed two more sons, Derrick and Teddy, before settling in South Carolina.
Soon after moving to South Carolina, Kristin learned she was pregnant. However, the pregnancy ended at 18 weeks after the baby, their fourth son, entangled himself in his cord. For Kristin, that was her rock bottom. Four years later, the family welcomed a rainbow baby, Joelle. Kristin calls being pregnant after a loss "a harrowing affair".
,
"You have such a hard time not comparing and trying to find joy in something that you are so afraid is going to end in heartbreak," she said.
Today, Joelle is a happy, healthy 17 month old. As Kristin started pumping and storing milk for her, she realized she had more than enough to feed Joelle and began to research milk donation. One of her friends, a NICU nurse, guided Kristin toward Mothers' Milk Bank of North Texas. Despite living beyond the borders of the Lone Star State, she found the right fit with MMBNT. MMBNT's donor coordinators send her all the materials she needs to safely ship her milk overnight.
,
Kristin sees milk donation as a duty. "If I have milk and someone else needs it, and all it causes me is a little time management, then it would be selfish of me not to share," she said.
When it comes to advice, Kristin recommends freezing milk bags flat in order to maximize storage space. Additionally, she encourages moms to stick to a pumping schedule, which helped her regulate her own supply. Regardless of the method, though, milk that is pumped for donation will be a gift to a baby in need.
"It's heartwarming to know that something I have an abundance of means the world to someone else," Kristin said.
To learn more about Mothers' Milk Bank of North Texas, click here.
,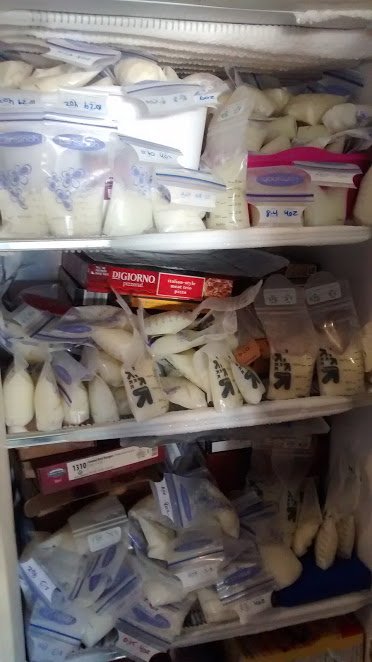 Tue, 11/22/2016 - 7:37 pm
For Robyn, milk donation has become a part of her regular routine. She stepped into her role as a milk donor after her daughter, Elliott, was born and she produced more milk than Elliott needed. Though some suggested she sell her milk, Robyn was moved by the idea of donating to a nonprofit milk bank and found Mothers' Milk Bank of North Texas through online research.
"To me, there's something special about knowing that it's being used by babies who specifically depend on breastmilk and don't have other options," Robyn said.
Robyn's milk supply quickly took over her family's freezer space, to the point that she purchased a deep freezer exclusively for milk storage. She donated 100 ounces for every month that Elliott nursed. After nine months, Robyn got pregnant again and her production decreased. With the birth of her son Quinn and the return of her supply, she decided to become a donor for the second time.
,
There is a method to Robyn's pumping, storing and donating system. Much of her pumping is done at work, where she's created a setup to make it as convenient as possible. She stores a baseline amount of milk at home for daycare and traveling, and once she's built up her supply over that amount, she drops her donations off at the depot near her office.
As a second-time breastfeeder, Robyn is taking advantage of the opportunity to improve her organization. She tries to make sure every milk bag or bottle is either 10 ounces or is equal to one serving for her son to make it easier to count, and to ensure that milk isn't being wasted when thawed. While this makes feeding her son easier, it also is an efficient way to keep track of the amount she's donating.
Being a donor mom is a meaningful experience for Robyn, and it's a selfless act that helps so many in both North Texas and beyond. "It's a really incredible feeling to know that I'm helping babies survive," she said.
For more information about becoming a donor, click here.
Tue, 11/15/2016 - 8:47 pm
Premature birth may be less common today than it was in the past, but it is still a major health problem. In the United States, it is the leading killer of newborns, and preemies are at risk for additional health problems throughout their lives. To bring attention to this widespread issue, the March of Dimes recognizes World Prematurity Day each year on November 17.
Donor milk from Mothers' Milk Bank of North Texas nourishes the most fragile infants, most of whom are preemies. In honor of World Prematurity Day, below is a previously posted blog article about Liam, a former donor milk recipient, and his mother who he inspired to become a milk donor herself:
,
A long journey to wellness began for baby Liam after his premature arrival at 26 weeks, weighing 1 pound, 14 ounces. His parents, Cereena and Austin, describe him as a "true warrior", battling and overcoming a common yet serious intestinal infection called necrotizing enterocolitis (NEC).
Admitted to Cook Children's Medical Center in Fort Worth, Liam was treated with antibiotics and fortified donor breastmilk. Like a lot of moms of preemies, Cereena's milk supply wasn't adequate after giving birth so early. Liam's neonatologist prescribed donor milk and explained that premature babies need breastmilk to provide proper nutrients and prevent life-threatening complications. Liam gained weight and won the battle.
Over time, Cereena ended up pumping more milk than Liam needed and decided to become a donor. "I wanted to provide milk for the babies who need it most and reduce any worry or stress for those mothers who try very hard to produce breastmilk, but can't," she said.
,
Cereena learned about MMBNT from Dr. Susan Sward-Comunelli, Liam's neonatologist, who helped found the non-profit organization in 2004. She describes the donor approval process as "thorough yet easy".
"The paperwork was minimal but they asked important questions; things that I would want to know as a mother whose child would receive donor milk," Cereena said. "The best part is knowing that all donors have their blood screened."
For Cereena and Austin, donating milk is a way to give back, knowing others helped Liam recover. Cereena explains, "All you want to do is protect and provide for your child and breastmilk can do both."
For more information about becoming a donor, click here.
Tue, 11/08/2016 - 2:47 pm
2016 will always be a year to remember for Desire. She and her husband celebrated both a wedding and the birth of Julian Jr., their first child. Julian entered the world at 37 weeks due to Desire's preeclampsia.
Initially, breastfeeding did not come easy for Desire and little Julian. While she struggled to produce enough milk, he struggled to latch. Desire also had thrush twice during this time. Just when she felt like giving up, Desire decided to try pumping so she could bottle feed her son with her breastmilk. She began to pump every two hours in an attempt to build a supply of milk.
"After two months I began overproducing, and did not realize it until I was filling up two freezers full of milk," Desire said. While studying to receive her master's degree in social work, Desire has been exposed to the world of infant nutrition and knows that some mothers are unable to produce breastmilk for their own children. Realizing she had more than enough milk for Julian, she searched for a place to donate and found Mothers' Milk Bank of North Texas.
,
Desire recently dropped off her first donation of 570 ounces to her local depot. She says it is a great feeling to be able to produce enough milk not only for her son, but for other babies in need.
From firsthand experience, Desire knows that both nursing and pumping come with challenges. She encourages other moms to stick with it, though, because it does become easier with time. "It pays off when you see your child thriving off your breastmilk," she said.
Perseverance and dedication to helping others is a major factor for many donor moms like Desire. Babies in need in both North Texas and beyond are given a fighting chance thanks to Desire and her fellow donor moms. With their help, more babies will be able to survive and thrive.
For more information about Mothers' Milk Bank of North Texas, click here.