Event Recap: Family Expo & Big Latch On 2017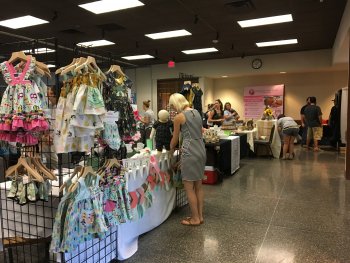 Hundreds of breastfeeding moms and supporters gathered at the Fort Worth Botanic Garden over the weekend to celebrate World Breastfeeding Week at our local Family Expo & Big Latch On. Mothers' Milk Bank of North Texas sponsored the event again this year, which is organized by Tarrant County Breastfeeding Coalition.
Approximately 600 people attended the event, which included family-friendly vendors selling such items as handmade jewelry, children's books, breastfeeding accessories, baby clothes and more. Many lactation consultants, midwives, and chiropractors displayed their services as well. The expo also featured a silent auction with packages suitable for all members of the family.
About halfway through the expo, the Big Latch On took place on the lawn just outside the exhibit halls. This event is one of thousands of Big Latch On locations around the world, organized with the mission of supporting breastfeeding and creating a mother- and baby-friendly community.
At the Botanic Garden, 195 mothers gathered to breastfeed their children all at the same time for one minute. With the inclusion of a few tandem breastfeeding moms, this location of the Big Latch On had 203 latches. Globally, 17,790 children breastfed during the one-minute count.
We are proud to have supported this successful event for another year, and are already looking forward to 2018!
For more information about the Big Latch On, click here.