Celebrating Pumping Moms on World Breast Pumping Day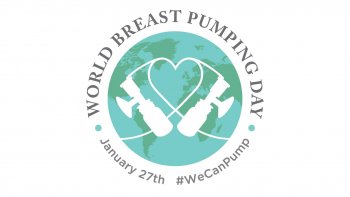 Pumping: it's a big part of many breastfeeding moms' days. The pumping itself takes time, of course, but there are several other duties that go along with it. Storing the milk afterward, washing pump parts, traveling to and from work with all the parts, maintaining a routine while also caring for baby - the list goes on and on.
Mothers show their love for and dedication to their babies through pumping. It's not easy, but they do it to provide their children with the miraculous nourishment of breastmilk.
That's why January 27, World Breast Pumping Day, is such a welcome day of recognition. It's a day to applaud mothers for their supermom efforts, and let them know the world values what they do. At Mothers' Milk Bank of North Texas, we have much to be thankful for on World Breast Pumping Day.
Pumping mothers keep our milk bank running. They donate extra breastmilk they've pumped beyond their own babies' needs and donate it to MMBNT, allowing us to supply NICUs and outpatients across North Texas and even in other states with life-saving donor human milk. These selfless mothers change lives with each ounce they pump.
If there's a pumping mom in your life, show her some love on World Breast Pumping Day!